Tyre choice, what an improvement!
11/5/2018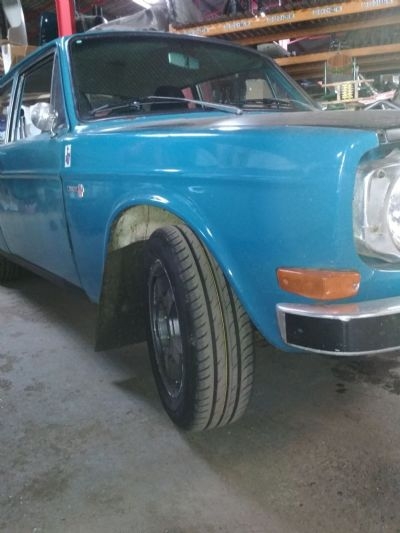 Returning the 142 back to road guise, whilst sad, is also quite rewarding - being able to use it as a daily driver again is hugely enjoyable; and it's surprising how many people enjoy its looks, and also how many people have relatives who owned a 140 (usually that mustard yellow).
Today the car is running at just over it's competition weight, so it is still very light: whilst it now has heavier seats and glass rather than polycarbonate, the rollcage has gone, and there's still no rear seat. Combined with my fuel injected 2.1 litre motor, it makes for very good acceleration. However that diff ratio needs to be longer legged, the 4.88 must go, and either a 4.56 or a 4.30 drop in - I'll ponder that en route to Ipswich tonight.
Anyway, a lovely set of 4 summer tyres arrived yesterday: 185/65R15.
Off came the 195/50R15 Yokohama competition covers.
And what a revelation. How? you ask, since I spend so much time banging on that one should "never fit a larger tyre than 185", surely I knew.
The Yokohamas are supreme competition covers, wonderfully sticky, very predictable. But on the road they follow every nuance in the tarmac surface pedantically, the car tracking left and right as it encounters invisible ripples in the surface.
With the 185's back on, the car is once more docile, supremely light on the steering, relaxing on the dual carriageway, and quickly responsive on the country roads.
So, just in case anyone is tempted, I say again for our road cars "don't fit anything over 185"