SOLD: Amys 145 For Sale: £3500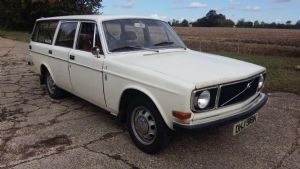 Amy's car for the past 3y, mechanically lovely, cosmetically it has "character". She took it for a month's motoring & climbing in the Alps, and a regular triangle between Suffolk, Yorkshire and Liverpool.
She's now working at sea, and so her much loved car ("Stanley") is no longer required.
1972
Early Strip Speedo
B20A engine in reliable condition
M41 with J-Type overdrive, very desirable
123 distributor
Brakes are just excellent, new discs and calipers
Conscientiously maintained by Amazon Cars during Amys ownership.
Mot'ed till Apil 2020
SOLD : Amazon 2 door Rally Car for sale £20000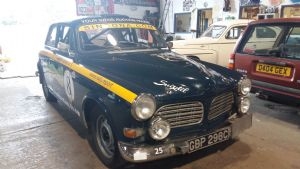 SOLD - LHD Volvo 130, Fully rally prepared in 2017 by Amazon Cars and Owen Turner.
Video of the car is at our YourTube channel: https://youtu.be/iWudW_Puia0
Enginge rebuild in 2017 to rally spec, compression still excellent and the engine feels quick and strong,
New SU carbs fitted
It has the stronger late type suspension, all parts replaced 2017
Body was strengthened in 2017.
All brakes parts replaced in 2017
Gearbox rebuilt
We built the car with Owen Turner and replace absolutely everything.
Quafe ATB fitted.
Amazon Cars long range tank fitted
Sump and steering guards
Brantz trip meters
The build cost was over £40000 in 2017, built to a P2P spec.
Its been on 2 South America Rallies since, but never used on P2P, as the owner decided to use a different car.
Car needs a good service after its South American adventure, and to be preped before its next rally.
Not MoT'ed or tax.
Call or Email:Amazon Cars