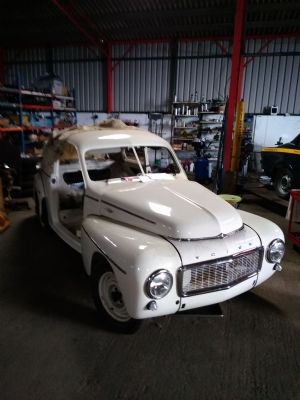 My annual invitation to spend the day at Goodwood Festival of Speed has been and gone, so Sophie and I set off on Wednesday night in her Midget and headed down to stay with Paul in Woking, the university lot (Paul, Electronics; Neil, Physics) and Sophie (will be French with Russian) sat down to watch the game, and wondered at my complete ignorance of the Association Code: "so he goes off for 10' on a yellow card?" elicited much mirth from the crouds in the sitting room, before they realised that it was a serious question - at which point the disdain for my attempt at paying intelligent interest in the game waned, and they (rightly) ignored me for the next 60' of play.
At 0700 on Thursday Sophie jumped into Paul's Sunbeam Tiger, as the beast woke up any who might still have been slumbering in a 1km radius - I took the Midget.
Thursday is now a full program day for the first time, it always used to be a set up day, so no longer are all the grandstands open to the great unwashed, although to be honest we only sat down once in the entire day anyway.
High points? I thought the Nascar cars were wonderful to hear blatting up the hillclimb, and also the pre-war GP cars; however the show stopper for me was the Landcrab "Puff the Magic Dragon" from the 1970 London to Mexico World Cup Rally - but better than that, we chatted to Puff's driver for at least 20': Bron Burrell, one third of the original team that comprised of Bron, Trish Ozanne and Tina Kerridge.
Irritatingly we missed her run up the hill somehow.
As for Emma's PV444, we (at long last) got the LHF wing back from the spray shop, so that's the front end all back together. However the gap twixt the rear of the bonnet and the scuttle is close on 1", and needs sorting. I need to think about this some more, since there is no adjustment in the bonnet hinge/stays, I think I have to relocate the bonnet hinge bolts on the front panel, but can't really believe that this might be necessary. I shall think about it over the next week...
Next task then is the upholstery, before the doors and glass go back on, sadly upholsterers have their own concept of time (and its dilation) so this might be at least a year before progress is seen - unless you know of one that keeps to deadlines, in which case please let me know - it would be lovely to have a reliable upholsterer to use regularly for the business!