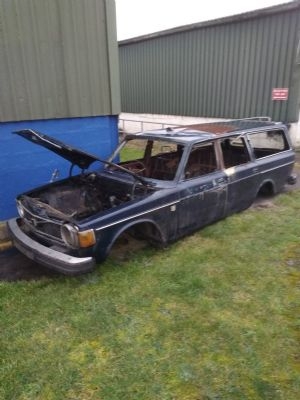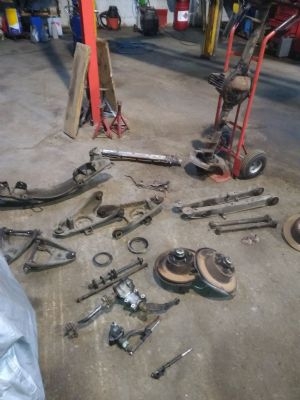 We picked up this 1974 145 from south London last month, very fire damaged inside but the engine bay was fine - clear evidence of a nasty short from the battery live wire.
It was a bit of a brute to extract it from its snugly fitting hording, and the LHF wheel had been lost at some point. We had to drag it into a residential road with cars parked both sides leaving a single track down the middle - and it was clearly a shortcut ratrun from the main road to some other place, judging by the number of cars trying to get through. In fact only one driver was unpleasant, the rest were more interested in the sad estate.
Well, we got it onto the trailer wih only a little bit of inginuity employed, and then the track back through central London, which needed significant confidence in my judgement of the trailer width, as the tunnels all have 6' (?) restrictions on them - the trailer is 6' wide.
Ultimately it has broken quite well, giving us a full suspension set along with a good cross member and a nice 4.30 back axle. Sadly the gearbox extension housing was damaged beyond salvage, which was the only real disappointment.
Friday 21st is Emma's 50th birthday, so we'll be out walking the dogs to The Dolphin pub in Thorpeness. Plans for her roadtrip are becoming clearer, with several nights already defined; and the V70 has had the little oddments sorted like a couple of suspension bushes, and adjusted the handbrake at long last!